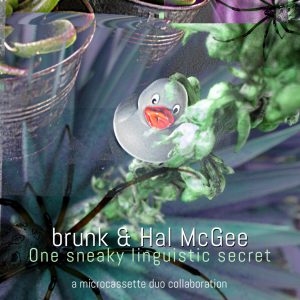 This is a really cool one!
Hal McGee is an experimental audio artist and homemade music pioneer from Gainesville, Florida, active since 1981. He is widely considered as one of the most important and seminal members of an early homemade cassettes musical movement in USA. Together with Debbie Jaffe, McGee operated legendary Cause And Effect cassette label and distribution, releasing such artists as Merzbow, Nurse With Wound, Controlled Bleeding, Robert Rich, If, Bwana, Algebra Suicide and others.
He has released an absolutely incrible amount of albums on hometaped cassettes and CD-Rs – check www.haltapes.com and halmcgee.bandcamp.com. The freedom and musical openmindedness he expresses in his recordings is something really refreshing and rarely encountered, especially in combination with his dedication and work ethics.
Last year I discovered his universe of weird sound collages, noise, free improv, daily conversations and random thoughts and I immediately felt at home 🙂
So when I read Hal wanted to collaborate with other musicians by exchanging recordings on (microcassette) I didn't have to think twice:
I immediately went hunting for a microcassette recorder – since I didn't have one yet!
The idea was to both freely record some stuff (without any restrictions or predefined rules – it could be anything) on a 60 minute microcassette (2 x 30′). Microcassettes have a low audio quality and the recorders often have irregular playback/recording speed depending on the batteries – so they are lo-fi heaven! Then this microcassette would be sent to Hal, and without knowing what i had recorded, he'd mix my tape and the tape he recorded together, this way creating a random collage of both microcassettes.
So we did. And I must say, I'm really pleased with the result.
The way both recordings work together, bearing in mind the combination is made purely by coincidence, is almost unbelievable.
I've freely recorded some steel and nylon string acoustic guitars, electric guitar and bass guitar, using several effects – played with a contact microphone, a mini recorder (accordeon), Tonka toy truck, a little spinning music box, a metallophone and accidental sounds and noises on a lazy sunday afternoon (in Ghent, Belgium) – while Hal recorded baritone ukulele, his voice, field recordings, including the voice of Jiblit Dupree, a Casio VL-Tone, harmonicas and Monotron synthesizers on his tape (in Gainesville, Florida, USA).
Mixing both tapes together, with nothing more than some panning and volume adjustmensts, resulted in this release:
'One sneaky linguistic secret' – which can be downloaded on Bandcamp:
(And yes, there's a typo in one of the song titles, intentionally :))
The cassette or CD-R version can be ordered here: www.haltapes.com
And this is Hal McGee's impressive bandcamp page, check it out: http://halmcgee.bandcamp.com/
Enjoy!
---
Trivia:
a microcassette duo collaboration
recorded January-April 2013
in Gent, Belgium
and Gainesville, Florida, USA
brunk
steel and nylon string acoustic guitars
electric guitar and bass guitar
effects
Fender Deluxe Reverb amp
contact microphone
a mini recorder (accordeon)
Tonka toy truck
a little spinning music box
metallophone
Hal McGee
baritone ukulele
voice
field recordings, including the voices of Jiblit Dupree and Trevor Luke
Casio VL-Tone
harmonicas
Monotron synthesizers
credits
released April 15, 2013