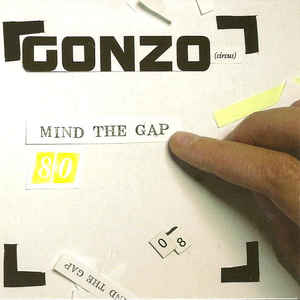 The brunk track "Cellulos. Microsist." was included as "track 13" on the 'Mind The Gap' CD (nr. 80) published by Gonzo (Circus) Magazine #93 (sept 2009).
There's also this little review/info (in dutch):
'brunk' (het alter ego van Vlaming Bert Vanden Berghe) bestaat al sinds 1998. In ruim tien jaar bracht hij een groot aantal, gevarieerde cd(r)'s uit. De nummers op 'Spondylitis Ankylosans' zijn erg directe, ongepolijste en vaak vrij dissonante gitaarimprovisaties (sommige met een loopstation, andere zonder, maar altijd met een gitaar die vrij willekeurig of heel intuïtief vreemd 'gestemd' is), opgenomen in ongeveer een week. Alles werd in één adem opgenomen, en niet meer bijgewerkt of gepolijst achteraf – het ging Vanden Berghe om de ruwe expressie. Ruis, fouten en lo-fi klankkwaliteit horen dus integraal bij het geheel, zoals 'Cellulos. Microsist.' mooi laat horen.
The magazine + CD is available in stores now.
The album which the track is taken from, spondylitis ankylosans, is available on Bandcamp.
Get it here: http://brunk.bandcamp.com/album/spondylitis-ankylosans

Mind The Gap Volume 80 on discogs:
https://www.discogs.com/Various-Mind-The-Gap-Volume-80/release/1921019