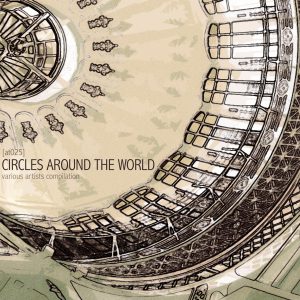 CIRCLES AROUND THE WORLD
various artists compilation
Circles Around The World is a various artists compilation that can be seen as a celebration of the 25th release in Audiotalaia Netlabel. Over this two years of work we have been releasing works from artist all around the world. For this special occasion we want to deliver a gathering of works under a common concept.
We asked the artists to work under certain premises. We asked them to try to portray some concepts or ideas on those pieces. Those concepts were based on the idea of a circle or cycle around the world, a journey across countries and cultures. The artists have been working on those ideas from the sonic point of view. Some of them have delivered tracks that represent features from the regions where they live. Some others have based their sound on travelling literature translating text into music. Some others have been working on soundscapes and sonic structures from their territory.
All together the compilation becomes a journey across the world, a conjunction of spaces, structures and scapes from all over the world. All of them are a representation of the thoughts and interests of each artist and their own perspective of the world.
Tracklist:
01. the love songs – londra
02. offthesky – silt water tear
03. the cherry blues project – the time is dead (remix)
04. brunk – radiostoring
05. philip sulidae – cloud music
06. tsone – spray
07. ennio mazzon – silea
08. marcus kuerten – torcedora
09. sunmoon – 44.425934, 26.092529 Terra
10. edu comelles – el estado de las ovejas
11. hiroki sasajima – roukoku
12. sean cooper-marquardt – returning safely to the earth
13. segue – hermit
14. nigul – finit però il.limitat
15. heezen – périphériques
Lenght: 1:32:13 min
Artwork by: Audiotalaia
Links:
[ Download full release ] (155 MB zip folder)
[ Release page at audiotalaia.net]
[ Release page at archive.org ]
[ artwork front (PDF) ]
[ artwork back (PDF) ]

CIRCLES AROUND THE WORLD by Various Artists is licensed under a Creative Commons Attribution-Noncommercial-Share Alike 3.0 Unported License.
Based on a work at www.audiotalaia.net.