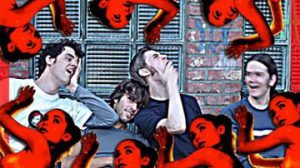 "The Returns – Alle goede dingen komen terug"
"The Returns is opgericht in maart 2004 en noemt zich een punk-rock-'n-roll-groep. Sil Goossens (zang), Bert Vanden Berghe (gitaar), Klaas Vanden Berghe (bas) en Bert Vankeirsbilck (drums) vatten het allemaal nogal losjes op. Af en toe een repetitietje, dan eens een optredentje, en ook weleens zomaar een half jaar pauze. Die ongedwongenheid is ook in hun muziek te horen.
Alles komt terug. Wat eens nieuw was, wordt na een tijdje oud en na een nog langer tijdje retrohip. De mannen van The Returns hebben dat goed begrepen en putten rijkelijk uit het muzikale verleden. Het viertal maakt indierock met punkinvloeden, die zich vooral laten voelen in de lengte van hun nummers, de afgekapte gitaarriffs en de zang. Maar The Returns is te funky om een punkband genoemd te worden, te progressief om retro te zijn en bijna te Brits om uit België te komen. Zo losjes en koket als zanger Sil Goossens de zinsnede "we'll make a baby" uit zijn mouw schudt in de song 'She's on fire', zo eenvoudig overtuigt 'Most difficult words' met grandioze riffs en een aanstekelijke melodie. The Returns bewijst dat alle goede dingen in de muziek terugkomen."
(Jennifer Beckers – © Cutting Edge – 21 Dec 2007)
Klik [ hier ] om de demo 2007 van The Returns te beluisteren…
En [ hier ] vind je ook nog de eerste demo uit 2004.
🙂