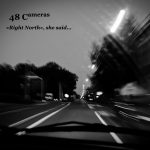 Recently I had the pleasure to correspond with Jean Marie Mathoul, one of the founding members of 48 Cameras – a musical collective & online collaborative project of several musicians.
The correspondence started out of a mutual interest and respect for each others work, and though we never met each other in real life, Jean Marie (who turned out to be a very nice guy) gave me the opportunity to contribute some sounds for the recording 48 Cameras was working on.
Which I gladly did, of course 🙂
This way I have the honour to be one of the many contributors on two tracks on their 10th album '"Right North", she said…' – a double digipack released at Interzone/Transonic in 2012, in a limited edition of 700.
One of the tracks I contributed to, is called 'Laments for our Isobel', and you can listen to it on the 48 Cameras bandcamp page:
The guitar sounds that ended up being my contribution for this track, are derived from the first track of my winter ep (Laika's view).
Really cool to hear this song in this totally new context.
The other track where some of my music are used, is 'Evenear'.
Here, parts of the track 'plankton' from the album mudskipper are weaved into the soundlayers of the song.
That said, I am just one of the 24 people from all over the world, who contributed to this great project, besides the 7 musicians who were the core members this time (Michael Begg, Michel Delville, Saskia Dommisse, Nick Grey, Peter James, Calogero Marotta & Jean M. Mathoul) – so this is truly a collective and international effort (BE, UK, FR, DE, CA)!
There are still some copies of '"Right North", she said…" available from their website: http://48camerasofficial.blogspot.be/p/blog-page_15.html – where you can also order many of their releases!
Go there, and support independent artists…
It's also available via the mandaï distribution webshop: http://www.mandai.be/48-cameras-right-north-she-said_51320 (update: now sold out there)
Very worthwile checking out!
It's a fascinating, beautiful dark audio trip, with great attention for details and love for soundsculpting…
———
Some extra info on 48 Cameras:
48 Cameras is an international musical collective created in 1984 , including therein musicians and non-musicians , some of them never having met.
This cooperative has recorded 10 albums and line-up has never ceased to evolve over the years, counting among its members a moment … 10 members
Many exchanges between members of the group have therefore place via Internet . The same principle has enabled 48 Cameras receiving, album after album, guests from various countries, cultures and disciplines: Rodolphe Burger , Andy Cairns , David Coulter , Sandy Dillon, Michael Gira , Tom Heasley , Andrey Kolomytzev , Gerard Malanga , DJ Olive , Charlemagne Palestine , Philippe Poirier , Nicholas Royle , Eugene Savitzkaya , Vesica Piscis, Aaron Ximm , etc.. In the manner of some domino theory, these collaborations often conduct of fortuitous accidents and weave term relationships that are multiplying. 48 Cameras same time has counted among its members Paul Buck , author of the novel The honeymoon killers (two translations in French under the title are killers honeymoon).
48 Cameras same watermark appears in the novel by the English writer Antwerp Nicholas Royle .
By reason of the peculiarity of this cooperative , 48 Cameras only gave six concerts in 25 years of existence, or Paris , Nancy , Brussels and Liège .
Jean Marie Mathoul – one of the founding members of the group – paraphrasing David Herbert Lawrence : " Our music might be music written in a foreign language that we would not wish to completely control . "
---
Links:
– 48Cameras Wiki
– 48 Cameras bandcamp
– 48 Cameras blog