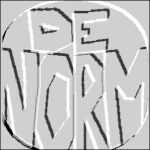 'De Norm' is an adventurous podcast series by Alex Pijpker.
This is what 'De Norm' is about, in his own words:
"I've always had a weak spot for artists who tried doing something different, like making music that was more art than entertainment, or entertaining as a piece of art.
Inspired by 'Listen to the brain' (a French pod cast with covers in different styles), 'The Beatclub' (an electronics/blues/lounge/soul/etc party) and my own sets in Bibelot, I created the concept for the sets you can find on this page. 
'De (nieuwe) Norm' is Dutch for 'the (new) norm/standard'. I chose this name to criticize nowadays' standard for music. I want to present something different than the 'products' the mainstream music industry brings us.
I hope that some people will use my sets as an alternative for listening to the radio and discover new artists or styles they've never heard of before!"
There's a brunk track in this fifth episode, De Norm 5, from 'insert coins to continue'.
Listen to this episode:
This is the playlist:
(0.00) – Beitegeuze – Glasperlenspieler
(3.32) – Blackouts – Exchange of goods
(6.09) – Das Gritli Moser – Mil7dr0w (March of the the death-dolls)
(10.57)- ZU (feat. Okapi) vs. Dalek – Spiritual Healing
(14.33)- Akcin – Minisong
(15.45)- Backpullver – Troll beer
(19.31)- brunk – Violence on tv
(22.59)- Jealousy Party – Hold em punca
(26.02)- The Bran Flakes – Betcha don't know where my mommy shops
(28.01)- Trans Luv Airlines – Brut
(30.27)- Belone Quartet – Even if the fields, the rivers and the places
(33.11)- Tzii – Terrains Vagues
(33.58)- Dyse – Sonne glaenzt
(36.12)- Mansfield Tya – Je ne reve plus
(38.28)- AmmaKasie noKa – Friend say
(40.10)- Daniele Brusaschetto – I love you all
(43.00)- Al Duvall – Bury me in shellac
(46.01)- Flavia and the Motonets – Pecesito
(47.42)- Angela Aux – Le ciel c'est a nous
(51.02)- Shex – Clit, east, wood & fire
(54.25)- John Wayne – The good things
Download link:https://app.box.com/s/1fbl2x8zrf2q092d8vkm
Enjoy!
---
The track 'violence on tv' is from the album 'insert coins to continue',
which can be streamed/downloaded on Bandcamp (you also can purchase a CD-R version there):